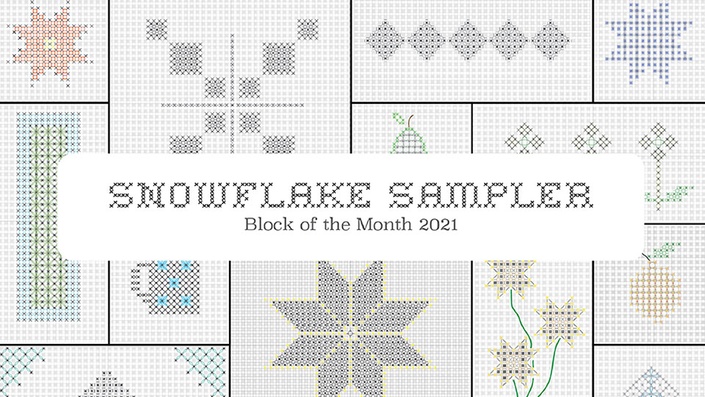 2021 Snowflake Sampler BOM Quilt
A year-long exploration, quilt block by quilt block, of the vintage craft called Chicken Scratch
Sign up!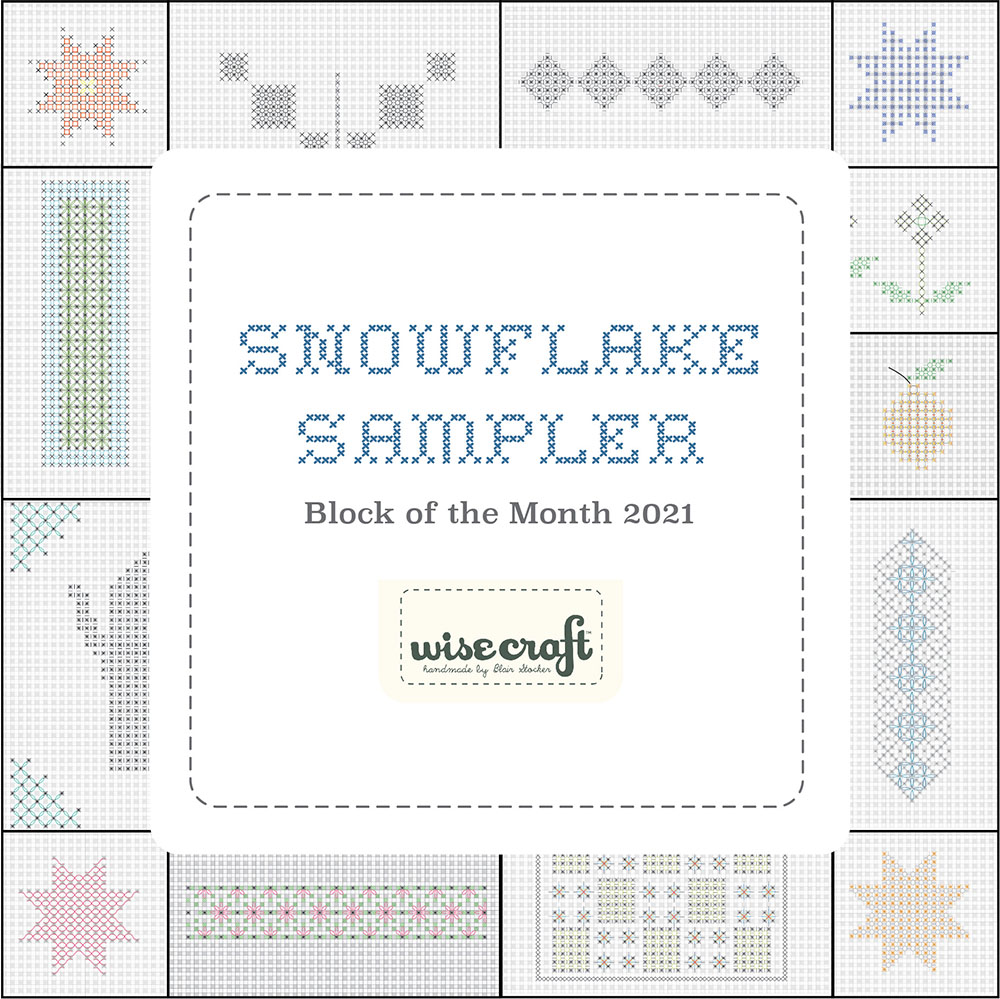 Are you ready to stitch with me in 2021??
Join me for my brand new Block of the Month and learn to stitch the beautiful craft of Chicken Scratch Embroidery. Each month in 2021, we will stitch a new chicken scratch embroidery pattern, block by block. These blocks will create a modern sampler quilt designed by Blair.
The vintage craft of chicken scratch embroidery is an endlessly customizable hand stitching method that is a joy to stitch. I tried this embroidery method years ago when I purchased a vintage chicken scratch quilt block at an antique sale. I was completely hooked from the first stitch. Its kind of a combination of cross stitch, embroidery and sashiko! The base cloth is always gingham, and the squares serve as the grid to stitch your chicken scratch design onto. From there, the patterns take shape in all kinds of beautiful and colorful ways!
Each month, you receive a new PDF stitch/block pattern for that month (a downloadable PDF), a video lesson from Blair, discussing technique and how to stitch the block. You will also have the opportunity to connect with other stitchers in our exclusive monthly Zoom calls, and our private BOM members-only FB community.
At the end of the program, you have a beautiful, modern Snowflake sampler quilt as well as a full library of chicken scratch stitch patterns, ready to use and customize for other projects.
Keep reading for all the program benefits and FAQ!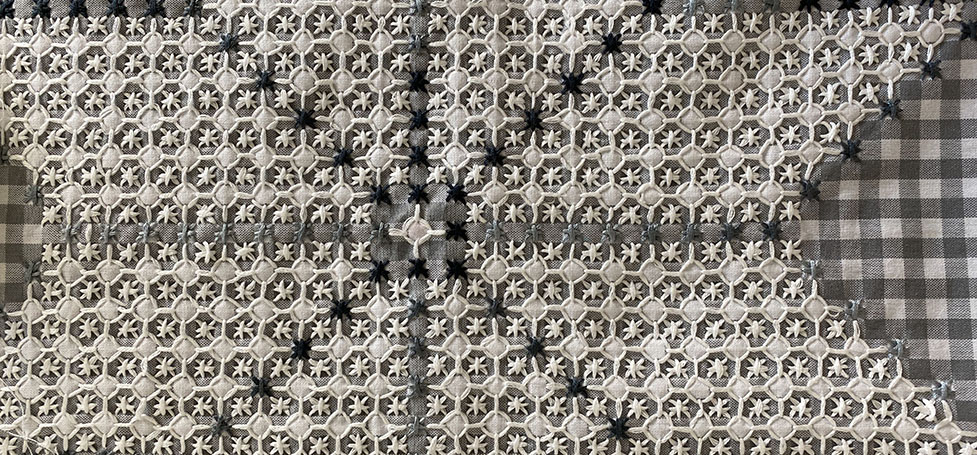 Here's What's Included
Monthly delivery of PDF pattern(s) and stitch grid delivered to your email inbox (see sample schedule below). By the end of this program, you will have 18 (yes 18!) different chicken scratch stitch patterns in your library, which you can use to stitch on all kinds of things!
Extensive video and written presentation of all new techniques as they are introduced, as well as opportunities to post questions in the class forum.
Monthly Zoom meet ups with Blair and other BOM members. A chance to show off your work, ask questions, share tips, and geek out on all things chicken scratch with others in the program!
Access to a private Facebook group only for BOM members.
Enter monthly giveaways for chances to win all kinds of prizes!
Bonus month 13- Information on finishing your quilt, sewing the blocks together, sandwiching the layers, ideas for quilting, and binding it all up.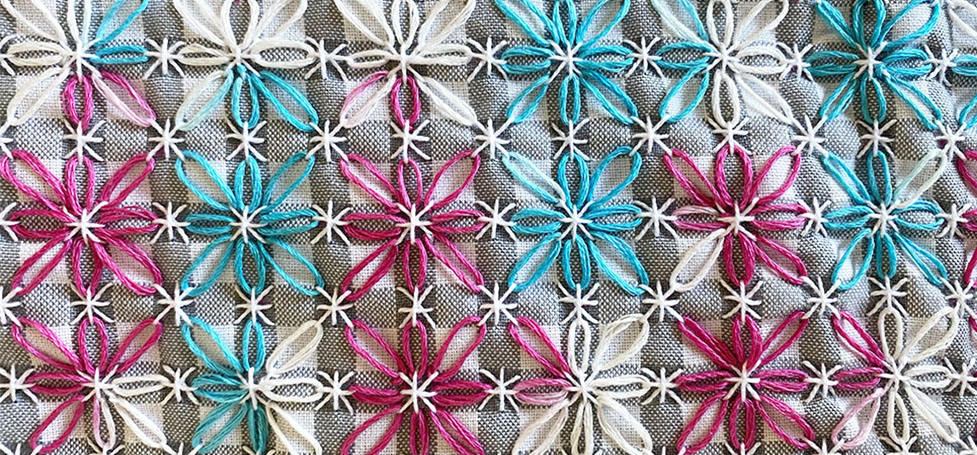 Schedule
December 18th- Our first class lesson will be released- a welcome packet and video message from Blair, printable PDF sheets of supply lists, fabric requirements, thread color and amount info, info on kit options, etc.
Block patterns and video tutorials released within our virtual classroom throughout 2021 on these dates. Zoom meet ups will be scheduled monthly.
Jan 31, 2021- Blocks 1a and 1b
Feb 28- Block 2
March 31- Block 3
April 30- Blocks 4a and 4b
May 31- Block 5
June 30- Block 6
July 30- Blocks 7a and 7b
August 31- Blocks 8a and 8b
Sept 30- Block 9
Oct 31- Blocks 10a and 10b
Nov 30- Blocks 11a and 11b
Dec 31- Block 12
And the bonus month in 2022
Jan 31- Quilt construction and finishing
Be sure to read all the FAQ below for more details.

Your Instructor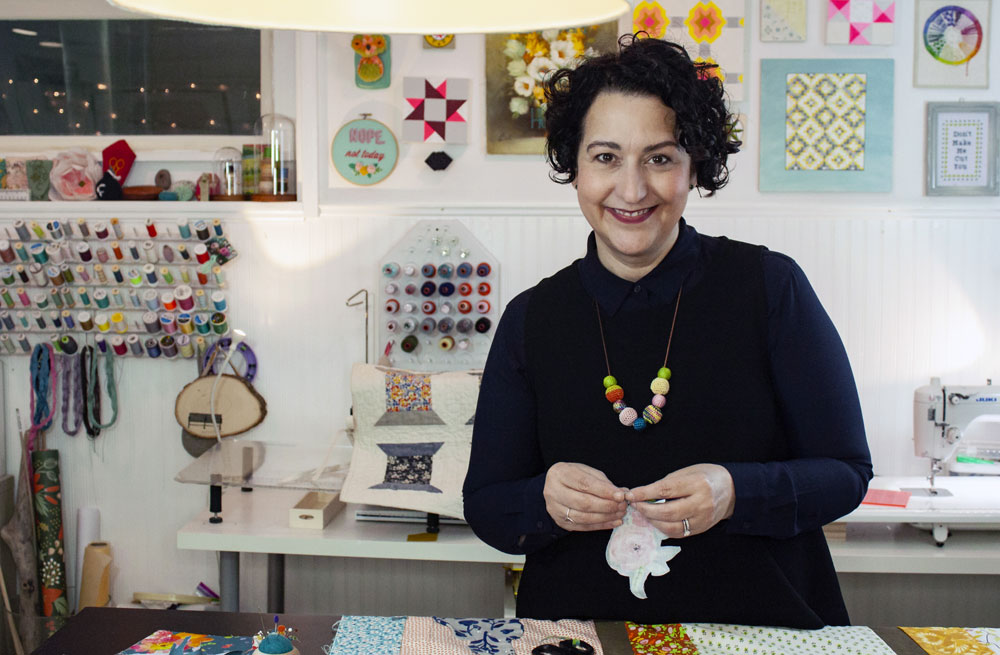 Blair is a quilter, tool designer, and the author of 2 books. Her most recent book, Wise Craft Quilts: A Guide to Turning Beloved Fabrics info Meaningful Patchwork, guides the reader through quilt making using up cycled fabrics and special collections of textiles. She invented the Ruby Ruler™ and the Ruby Minder™ back in 2017 to help quilters design beautiful quilts using their scraps by understanding how to understand and use color value. She lives in an adobe house outside of Santa Fe, New Mexico. You can find her online at wisecrafthandmade.com
Course Curriculum
Section 1- Welcome to the ❄️ Snowflake Sampler BOM ❄️!
Available in days
days after you enroll
Frequently Asked Questions
When does the Snowflake Embroidery BOM program start and finish?
On December 18th, the first lesson, a welcome lesson, will be released. This lesson will contain all the info you need to gather your supplies and get ready to stitch. It will also give details on quilt kit options. The first block patterns go out on January 31st, 2021. The block assignments are monthly throughout 2021, with a bonus lesson in January 2022 on quilt top construction and finishing techniques.
How long do I have access to the course?
How does lifetime access sound? After enrolling, you have unlimited access to this course for as long as you like - across any and all devices you own.
Can I get a refund?
I would not want you to be unhappy. Please email me to discuss at
[email protected]
if you have issues. You have 30 days from the date of purchase to request a refund.
What if I can't tune in to the monthly live Zoom chat?
Not to worry. The Zoom meet ups will be recorded and uploaded to view anytime
Can I download the video lessons?
The video lessons cannot be downloaded, but the PDF documents in the lessons can. Videos can be watched anytime here in our classroom and once you purchase the program, you have forever access to them.
What do I need to be able to access the lessons and BOM information
A valid email address, a stable wi-fi connection, and the ability to print out the PDFs if you want to. If you have all that you're good to go!
Can I see the finished quilt?
I've designed the details, layout, and have stitched the blocks to work out the patterns, math, etc, but the full reveal won't happen until later next year. The element of surprise keeps it fun, right?
Do I have to make my quilt exactly as the designed quilt?
Definitely not! This will be your quilt. If you see a design tweak that you'd like to do, that's totally up to you and I won't mind at all.
What can I do with the stitch patterns after the BOM is over?
You will have a library of 18 different chicken scratch stitch patterns that you know how to stitch when this program is done. Add these to clothing, curtains, sheets, kids clothes, anything really!
Can I post my monthly blocks on social media?
Absolutely! I encourage you to post your blocks (just not the technical details like sizes, patterns, etc that you have paid to have access to). And to get you stitching- every month you post a stitched block you will be eligible you will be automatically entered into a drawing to win prizes of all kinds. (More details on hashtags and such inside the welcome packet).
I have a question that I don't see an answer to here, can I email you?
I'm a newer quilter? Can I make this quilt?
I would say yes! Chicken Scratch embroidery is easy and a pleasure to stitch. The construction of the quilt is pretty straightforward, but there are a few skill-building aspects to the construction. I will demo and instruct everyone through these parts, so not to worry.
What is the time commitment each month? What if I don't finish that month's block in time?
This is a no-pressure, work-at-your-own pace project. There will be monthly prize incentives for those of you who post the finished block assignment by the end of the month, but these are meant as gentle motivators for those of us who do not want yet another unfinished project sitting in a corner stack. But it is also totally ok to work at your own pace!
Do you offer payment plans?
Yes! I'm so excited to offer monthly payment plan option for this program.
Please be sure to OPT IN to emails so at checkout so you don't miss anything.
If you checked to Opt Out of emails at checkout, guess what? Its unlawful for me and my business to email you if you've asked me not to. If you did NOT opt out at checkout and still don't see any emails from me, be sure to check your spam or junk folder, they are likely in there. If you are still having problems, email me at
[email protected]